Spring Recipe: Breakfast Coconut Chia Jar
Mornings are hectic enough without worrying about what's for breakfast. Cue this night-before lifesaver that make waking up so much better. Enjoy!
1/2 cup almond milk (or milk alternative of choice)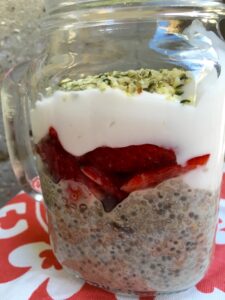 2 heaping tbsp. chia seeds
1 tbsp 100% pure maple syrup
1 tsp vanilla
Pinch of each: ground cardamom and cinnamon, freshly ground if possible
Pinch of pink Himalayan or Sea salt
1 tbsp hemp seeds
1 chopped Medjool Date
1 tbsp pumpkin seeds
½ cup Coconut Yogurt
¼ cup fresh seasonal fruit, chopped
1-pint size Mason jar
• Mix together the almond milk, chia seeds, maple syrup, vanilla, salt, cardamom and cinnamon until fully combined.
• Place mixture in jar and let it sit for 20mins.
• Layer on top of the chia pudding first by adding the fresh fruit, coconut yogurt, chopped date, pumpkin seeds and finally the hemp seeds.
• Refrigerate overnight (or 4hrs) before serving.