Spring back into action! Learn why slacking gluten and tight thighs could be causing you low back pain
In the colder months it is very common to curl up with a cup of tea and not get in a daily dose of exercise that our bodies need. Now that spring here and summer not far behind, it is the perfect time to get outdoors. Biking, jogging, and walking along the Beach boardwalk are perfect ways to get in some exercise and some vitamin D all at the same time.
If the reason your physical activity levels have been low this Winter is because of acute or chronic back pain then this solution might be for you.
Often times when we are sitting or lying down watching Netflix for long periods of time our muscles will start to shorten. Furthermore, if we are not activating major muscle groups, the neural connections to these muscles will get weaker. A major muscle group that is prone to slacking is our Gluteus Muscle groups AKA our "Derriere".
This muscle group and mostly the Gluteus Maximus is a major muscle involved in walking, standing, squatting and climbing stairs. When we are inactive our gluteal muscles start getting lazy and other muscle groups perform their actions-inefficiently. This means that your Glutes remain inactive.
If your glutes are not activating throughout the day, they can cause a major misalignment in the pelvis, resulting in the muscles of your thighs and back working overtime. Your lower back muscles may be getting strained because they are firing overtime to make up for the sleepy glutes.
A good combination of stretching the quads (front of your thighs), hamstrings (back of your thighs), and strengthening the glutes might be a great way to eliminate pain.
Below are some quick and simple exercises to strengthen your glutes and get you Springing back into action..
Spring Self Care: Glute Bridges + Donkey Kicks
Glute Bridges:
1) Lay on your back with your palms to the ground, knees bent, and your feet shoulder width apart.
2) Relax your upper body completely – you should not use your arms or back to assist in this exercise.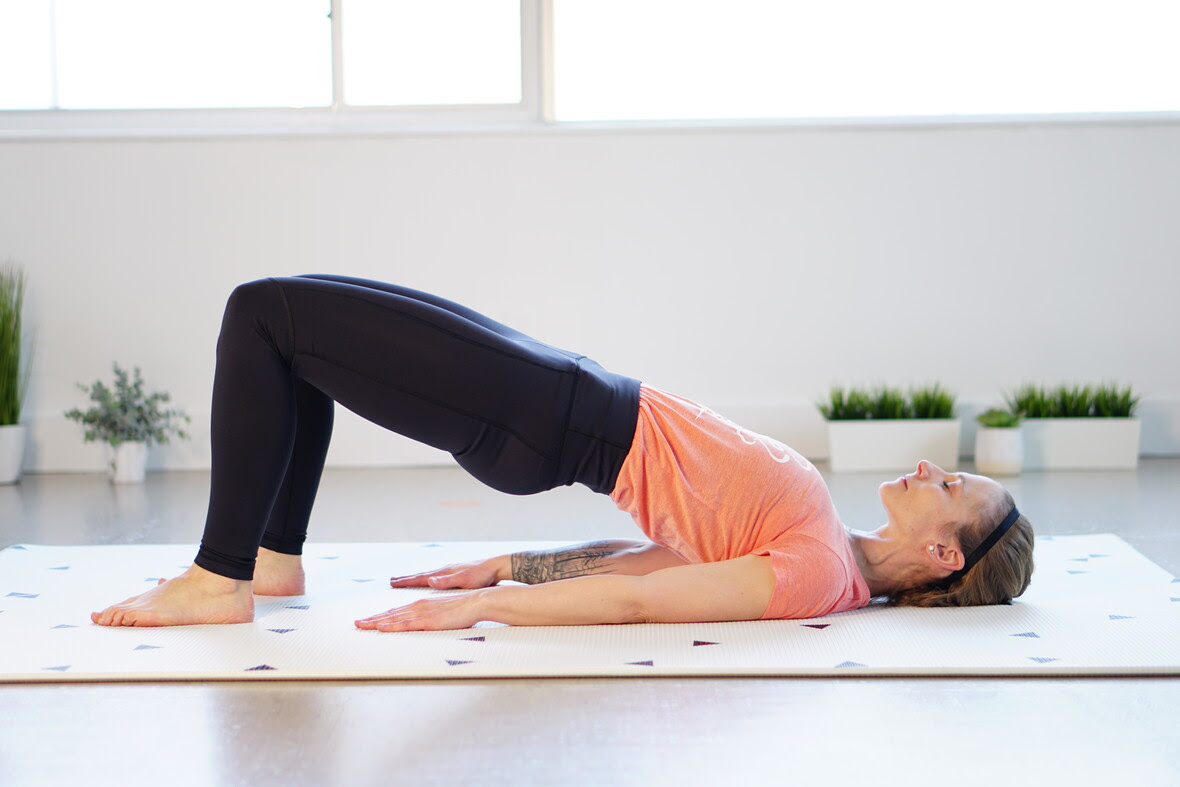 3) Squeeze your Glutes and push your feet into the ground, pushing your hips towards the ceiling (Make sure it is your glutes and not the back of your thighs initiating the movement)
.
4) Slowly lower your hips and glutes back down to the ground
Repeat 10 times, or until you feel fatigued, and try to complete 2 repetitions.
*Tips:
~Keep your core engaged the entire time, there should never be an arch in your back.
~Keep your knees in-line with your feet, don't let your knees collapse inwards or outwards.
~If this exercise causes pain in your back or elsewhere, stop this exercise completely. You should feel the burn of a muscle working but no pain.
Donkey Kicks:
1) Begin on your hands and knees, core engaged, spine straight with your knees hip width apart. Your arms should be straight throughout the duration of the exercise (Shoulders stacking over elbows, over wrists).
2) Engage one side of your glutes and try to lift your leg from the position it is in until your thigh is perpendicular to the floor (Lifting your foot so your bottoms of your feet are flexed and facing the sky).
3) The movement should be initiated from the glutes, so make sure you are focusing on squeezing the correct muscles. Your knee remains bent to 90 degrees the entire time (Driving the energy of your donkey kick right through your heel to the heavens).
4) Bring the leg back to starting position and switch legs.
Repeat this 10 times (10 on each leg) or until you feel fatigued, and try complete 2 repetitions.
*Tips:
~Keep your core engaged! If you are arching your back this exercise will put more strain on your lower back.
~If your foot cannot get as high as depicted in the picture, that is totally fine! You are still working the proper muscles and developing strength, don't sacrifice proper form to get your leg higher.
~You can place a towel or pillow under your knees if this exercise hurts your knees
.
~It is important to warm up the muscles prior to exercising them. This can be done by doing hips rolls in both directions. Move in and out of exercises carefully.
~If this exercise causes pain in your back or elsewhere, stop this exercise completely. You should feel the burn of a muscle working but no pain.
After your workout:
 Stretching these muscles is incredibly important as well! Check out our Stretch + Strength on the Piriformis muscle to get a good stretch after these exercises. As well as stretching the Hamstrings and the Psoas/Iliacus (hip flexors). Both of these muscles being tight can contribute to back pain. If you have any questions about your low back pain, or these exercises feel free to contact our team at Therapy Lounge, or book an appointment.
NOTE: As with any exercise or stretch, if you feel any pain at any point please discontinue. This can cause damage to your muscles.
Hopefully these exercises will bring you relief this spring. Contact our team at Therapy Lounge if you have any questions, or if you wish to book a treatment.
Spring Essential Oil Spotlight + Self Care: Lemon AKA Liquid Sunshine
Whenever life gives you lemons, Lemon Essential Oil is one companion you will always want to have on hand.
Sweet and citrusy, Lemon is one of the most versatile oils and the benefits can be easily obtained through all 3 applications—aromatically, topically, and internally.
Aromatically, the compounds of Lemon are cleansing, energizing, and emotionally invigorating, making it the perfect oil to energize the atmosphere of your home and for encouraging a positive mood.
Lemon has a high content of the chemical compound, limonene. Giving it powerful cleansing properties that can be added to your DYI cleaning products for a fresh scent and a boosted clean that gets the job done.
When taken internally, Lemon can assist with seasonal respiratory discomfort and provide digestive benefits *.
Primary Benefits:
~ Has an uplifting aroma to promote a positive mood
~ Cleanses and purifies the air and surfaces
~ Naturally cleanses the body and aids in digestion *
~ Supports healthy respiratory function *
Lemon Essential Oil Uses:
~ When diffused, Lemon provides an uplifting environment, promotes a positive mood and will also help cleanse and purify the air. Whether you are trying to eliminate airborne odors, or just like to keep your space fresh, bright, and clean, Lemon is an optimal choice for diffusing—on its own or in a diffuser blend.
To Diffuse: Use 3-4 drops in the diffuser with filtered water.
Lemon Diffuser Blends:
Focus & Energize
3 drops Lemon
2 drops Peppermint
Breath of Fresh Air
2 drops Lemon
2 drops Lavender
2 drops Peppermint
Spring Cleaning
3 drops Lemon
3 drops Wild Orange
2 drops Peppermint
Spring Break
2 drops Lemon
2 drops Wild Orange
1 drop Peppermint
1 drop Lavender
~ Next time you feel tension, place a few drops of Lemon Essential Oil into your hands, cup your hands over your nose, and inhale slowly and deeply. Then brush your fingers and hands though your hair. Volia!! Natural hair diffuser!! This simple and quick process is ideal when searching for feelings of lightness, cheer and joy.
~ Refresh and uplift. Add one or two drops of Lemon Essential Oil to water to create a refreshing and citrusy boost you can reach for throughout the day. enjoy the benefits of respiratory assistance and body cleansing.*
To Use: Dilute one drop in 120 mL of liquid.
~ Washing your produce in a homemade produce wash is a great way to make sure your food is clean.
To make: Add 1 cup of water, 1 cup of white distilled vinegar and 10 drops of Lemon Essential Oil in a 16 oz spray bottle. Shake before each use and spray your produce liberally to clean it.
Alternative – fill a big bowl with water and add 1/4c vinegar and a few drops of lemon and let produce soak for 10 min before rinsing it off.
~ Add a drop of Lemon Essential Oil to your toothbrush. It has a brightening and whitening effect on teeth *.
Caution:
Possible skin sensitivity. Keep out of reach of children. If you are pregnant, nursing, or under a doctor's care, consult your physician. Avoid contact with eyes, inner ears, and sensitive areas. Avoid sunlight and UV rays for at least 12 hours after applying product.
*These statements have not been evaluated by the Food and Drug Administration. This product is not intended to diagnose, treat, cure, or prevent any disease.