sanefx binära alternativ handelssystem
binäre Optionen pro Signale facebook
Forearm Flexor Stretch
when does binary option market open
30 ثانية تداول الخيارات الثنائية
Forearm Extensor Stretch
fria binära optioner verktyg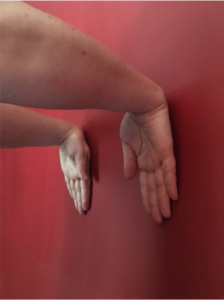 As above, begin with your arm outstretched, elbow straightened. To stretch your left wrist extensors, extend your left arm in front of you, palm facing down, and use your right hand to apply gentle pressure and pull the fingers of your left hand towards your body. Switch hands and perform the same stretch on the opposite wrist.
Forearm Pronation and Supination Strengthen & Stretch 
To strengthen and stretch some of the muscles that help to pronate and supinate (rotate) our forearms, support your forearm on a table top or stable surface, with your wrist hanging off the edge of the table. Grasp a hammer or small dumbbell in your fist. Keeping the wrist straight, elbow bent, gentle let the weighted head of the hammer rotate your wrist and forearm as far as comfortably possible. Hold this position for approximately 10 seconds and then rotate the hammer in the opposite direction. This activity can be used to strengthen the muscles in your forearm, but make sure to use a weight that isn't too heavy. You can also extend your grip on the hammer by holding it closer to the end of the handle, to add extra resistance.
Forearm Ice Water Bath
If you've had a particularly gruelling day in the garden, you can also give your forearms an ice water bath to energize tired, achy arms and hands.
Fill a tub or basin with cold water or ice water (as cold as tolerable). Submerge your forearms and hands in the water for 10 – 120 seconds or just until your arm/hand begins to ache. Remove from the water bath and dry thoroughly. Perform a few wrist circles to encourage circulation.
Hopefully these exercises and stretches will help relieve any tension you might be feeling in your forearms this summer. Please feel free to contact me at Therapy Lounge if you have any questions about stretches or exercises for your forearms, or if you would like to book a treatment. Have a healthy and happy summer!